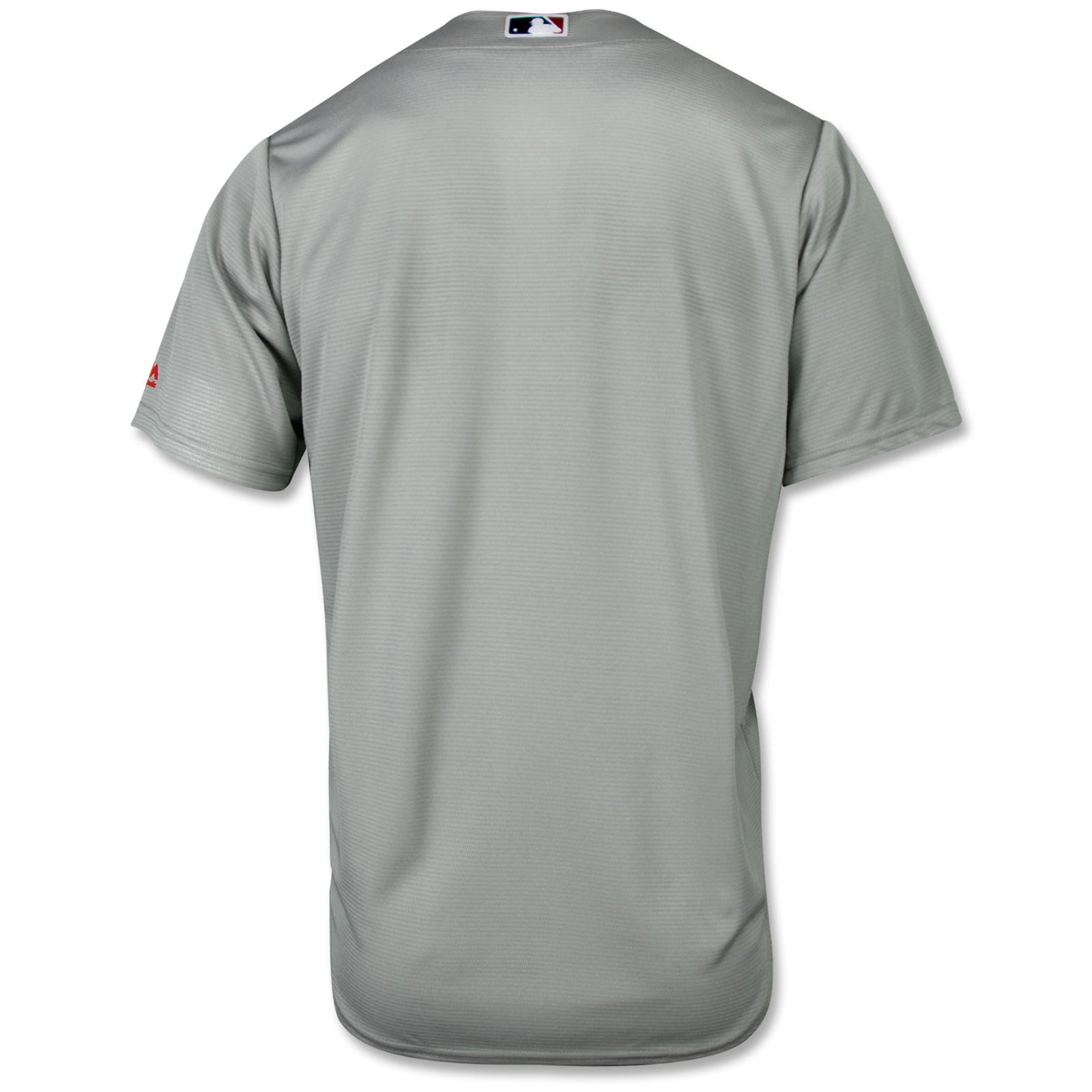 Customized Nike Replica Road Cool Base Jersey - Grey
Have a Custom Jersey made! This order will be made after approval of your name and number request. If you are unsure about the name and number combination please feel free to email us before placing your order. We do have special characters available that will not show up on the screen, but if you enter them we will add them, we have: A Period, Comma, Apostrophe, Hyphen, Tilde and Accent. The jersey will show an example of what you have entered, but it may not be the exact showing of how your jersey will look, jerseys are done by hand and the letters and numbers are set in the best way for the size of jersey, and name on the back.  If you select an express shipping option, we will send your order with express shipping once the jersey has been made, which can be more of a delay after the order is placed, we do our best to get custom jersey orders out as soon as possible. Generally they are made within 24-48 hours. We will reach out to you if we are unable to make your jersey due to licensing issues
Boston Red Sox Nike Replica Road Jersey - Grey - Blank.  Material: 100% Polyester, Heat-sealed transfer applique, Short sleeve, Rounded hem, MLB Batterman applique on center back neck, Heat-sealed jock tag, Full-button front, Machine wash
Customized items may not be returned or exchanged.
Have a Custom Jersey made! This order will be made after approval of your name and number request. If you are unsure about the name and number combination please feel free to email us before placing your order. We do have special characters available that will not show up on the screen, but if you enter them we will add them, we have: A Period, Comma, Apostrophe, Hyphen, Tilde and Accent. The jersey will show an example of what you have entered, but it may not be the exact showing of how your jersey will look, jerseys are done by hand and the letters and numbers are set in the best way for the size of jersey, and name on the back.  If you select an express shipping option, we will send your order with express shipping once the jersey has been made, which can be more of a delay after the order is placed, we do our best to get custom jersey orders out as soon as possible. Generally they are made within 24-48 hours. We will reach out to you if we are unable to make your jersey due to licensing issues
Boston Red Sox Nike Replica Road Jersey - Grey - Blank.  Material: 100% Polyester, Heat-sealed transfer applique, Short sleeve, Rounded hem, MLB Batterman applique on center back neck, Heat-sealed jock tag, Full-button front, Machine wash
Customized items may not be returned or exchanged.
Fantastic Jersey
I couldn't get the color jersey I wanted (road Grays) from MLB shop so I went to JerseyStreet Store and got exactly what I wanted. I love the custom built jersey (7 YOSHIDA) and continue to love the Sox. Thanks JerseyStreet!
it was perfect, thank you GO SOX